Climate Resilience Improvement Project (CRIP) is formulated jointly by GOSL and WB as a comprehensive programme to reduce the adverse impact of climate change and to adopt the stock of infrastructure to extreme climate shocks. The climate resilience encompasses a dual function, to absorb shock as well as to self-renew.
The project is executed by Ministry of Irrigation and Water Resources Management (MIWRM) with the financial assistance of International Development Association (IDA) – World Bank and implemented by Department of Irrigation (ID), Mahaweli Authority of Sri Lanka (MASL), Road Development Authority (RDA) and National Building Research Organization (NBRO). Project Management Unit (PMU) established under the MIWRM plays coordinating, facilitating and monitoring functions to implement the project to increase resilience by financing to enhance the long term technical and operational capacity of Implementing Agencies (IAs) and also to physical investment to address short term infrastructure weakness together with contingent credit facilities to safeguard against immediate fiscal impact of a disaster.
The Project Development Objective (PDO) is to reduce the vulnerability of exposed people and assets to climate risk (hydro meteorological risks: flood, drought and landslide) and to improve Government's capacity to respond effectively to disasters.
The project is mainly focused to establish a process that would built a more climatic resilient economy since current understanding of multispectral impacts of climate change and flood & drought risks modeling and scenario analysis are not adequate at present. In addition, project supports to implement urgent climate mitigation investments required to ensure the short-term integrity of flood control and irrigation infrastructure, transport network and critical education facilities at risk.
Therefore, project Development objectives will be achieved through evidence based investment of project funds under four project components; 1) development of basin investment plans, 2) increase climate resilience of infrastructures, 3) Project Implementation, 4) contingent emergency response.
Project component-1 focuses on analytical activities and long term development planning while Component-2 addresses urgent rehabilitation investment to increase resilience to climate risk. Component-3 supports project implementation and component-4 provides flexible funding to recover from a flood event that may occur during project implementation period.
 Component -1: Development of basin investment plans:
Under this component project supports to detail modeling of flood and drought risk in ten basins to develop comprehensive basin wide investment plans (over US$ 1 billion investment plans) that incorporate competing risks of both flood and drought. The analytical work under this component will serve as a basis for future climate resilience investments and will help the government to understand risk and adopt the required risk mitigation measures.
In fact, Project is supported the Government to making investments in a holistic manner that consider current and future climatic risk across sectors by establishing a Climate Resilience Planning Unit (CRPU) as a long term institutional arrangement to convene agencies that compete for water resources and ensure sustainability and resilience of major investments.
Component -2: Increase climate resilience of Infrastructure
This component supports to implement urgent climate risk mitigation investments identified and prioritized to i) implement immediate flood and drought risk mitigation works of hydraulic infrastructure in downstream of dams such as canals, flood bunds & diversion structures, ii) reduce risks to interruption of transport continuity due to floods & landslides and iii) protects schools from landslide risks. Identification of hydraulic infrastructures for rehabilitation are based on local level flood modeling followed by hydro-meteorological data analysis and all designs are prepared to account the level of risk identified by implementing agencies.
Project Financing
The project is completely financed by WB-IDA for 4 project components allocating USD 110 million equivalents to Rs. 14,382 million and the Government of Sri Lanka (GOSL) is allocated USD 1.8 million equivalents to Rs. 235 million for payment of project allowance for staff involved in implementation of project under each Implementing Agency (IA).
Project Financial and Physical Status in brief
Project has utilized Rs 3,638.51 million out of Rs 14,382 million allocated for the project including emergency response) and achieved 25.3% financial progress against total allocation and 32% physical progress by 31st July 2016.  Among the expenditure, majority of funds have been utilized for payment of mobilization advances and part payments for civil works contracts awarded under the project, International Consultancies and procurement of goods such as vehicles, IT equipment and machinery to improve the capacities of IAs.
Up to now 281 rehabilitation works packages are awarded out of 488 packages under original project with value of Rs 5,241 mn and paid Rs 2,410 mn (46%) as part payment and mobilization advances to contractors. Among the awarded contracts, majority is awarded under Community Participation (CP) and National Competitive Budding (NCB) by ID, MASL, RDA and NBRO.
However, awarding of NCB contract packages under ID, RDA and NBRO has shown slow progress compared to MASL. It is also observed that substantially long time period is taken by NBRO to prepare designs for slope stabilization packages especially for rock falling sites under RDA as a technical consultant to RDA due to their complex nature of technical solution recommended through designs by NBRO which resultant slow progress of awarding slope stabilization packages under RDA.
It is also observed the slow progress in preparation of detailed designs & estimates for remaining bridge improvement packages by RDA due to their complex nature and scope of work involve with the packages. However, even under these circumstance, project is able to award 114 NCB packages with contract value of Rs 4,966.6 mn, 150 CP packages with contract value of Rs 211.1 mn and 17 National Shopping (NS) packages with contract value of Rs 63.15 mn by ID, MASL, RDA and NBRO.
In addition, PMU has procured and distributed 167 desktop computers, 65 notebook computers, 44 pickups, 7 passenger vehicles, 59 digital cameras and machinery, laboratory equipment, and furniture for IAs to improve their operational capacities to strengthen project implementation. Project has awarded two ICB contracts to undertake LiDAR survey and Areal photographic survey under component-1 and both contracts are now completed. International Support Consultancy for development of basin investment plans is awarded to WS Atkins International, UK on 10th May 2016 and consultant is carried out the activities as per agreed work plan. There are number of contract packages are in pipe line to award for rehabilitation of hydraulic infrastructures, improvement of bridge in selected roads and slope stabilization in road sides and school premises in Kandy district.
Development of Basin Investment Plans
Under this component International Support consultant is hired on 10th May 2016 and counterpart staff was assigned from line agencies to work with the consultant to carry out effective analysis of flood impact to understand the problem and address long term measure to establish a process that would built a more climatic resilient economy. In this process consultant will develop 6 basin investment plans and pre-feasibility studies for 6 basins prioritized based on urgency in phase I of the consultancy while enhancing the capacity of counterpart staff to carry out development of basin investment plans for rest of 4 basins their own with the supervision of International consultant to develop feasibility reports for 10 basins under phase II of the consultancy. The feasibility reports developed under this consultancy will be ready for negotiating with donor agencies to implement them at end of the project with donor funding facilities. Hence, this will be an entry point of a long-term engagement in disaster risk mitigation in the country with special emphasis to contribute to the broader goal of enhancing adaptive capacity to prevent food insecurity in the country induced by climate change.
Therefore, outputs of this project would serve as a foundation for large scale investments to mitigate flood and drought risks in Sri Lanka in future and also be an asset to the all the implementing agencies involved with the project as members of the Technical Working Group (TWG).
At present International Support Consultant (ISC), WS Atkins  nternational Limited, UK has fully mobilized and carried out initial field investigations in Kelani, Attanagalu oya, Malwathuoya, Mahaweli and Maha oya basins and consultative workshop are conducted at basin level with relevant line departments to identify issues and their needs in Malwathu Oya and Attangalu Oya.
Since project has limited time to complete the consultancy on development of basin investment plans, inputs needed from LiDAR survey and Aerial Photographic survey were awarded prior to the awarding of ISC consultancy to Fugo Geoid SAS, France and Aerodata International, Belgium respectively. At present LiDAR survey and Aerial Photographic surveys has been completed by both firms and outputs of these two consultancies have been utilized by ISC for development fo basin investment plans.
PMU has procured Rs 30 million worth GIS packages to be used by counter-part staff assigned for the component-1 from IAs to use for analyzing hydro-meteorological data for flood and drought risk modeling and also planning to send 10 counterpart staff to UK under the ISC consultancy to improve their capacity on development of basin investments plans
Component 2 – Increasing Climate Resilience of Infrastructure
Sub Component 2.1 – Flood & drought Mitigation;
Physical improvement of Hydraulic infrastructures of ID:
Department of Irrigation has identified 394 civil works packages to rehabilitate under the project to mitigate immediate and short term flood and drought risk in hydraulic infrastructures which were damaged in 2010/11. After 2014 floods, ID has identified another 84 packages worth of Rs 2305 mn as emergency rehabilitation works packages on priority basis to be financed under Additional Financing (AF) to be effective very shortly.
All together 478 packages identified including AF by ID with an estimated value of Rs 6,860 million. Among them Rs 178.64 mn worth 120 Community Participation (CP) packages were awarded to FO and among them 70 packages worth of Rs 92.34 mn are completed by FO at present. In addition, 16 packages are awarded as National Shopping (NS) packages amounting to Rs 60.55 mn and Rs 39.2 mn paid as part payment for completed works. Up to now 13 NS packages completed with a value of Rs 50.31 million. Further 75 NCB packages with a value of Rs 1,912.96 mn are awarded and Rs 495.8 mn paid as part payment for the completed works for contractors. Altogether 211 contracts are awarded with value of Rs 2,152.15 mn and already paid Rs 614.8 mn as part payments and mobilization advances. Most of these contracts are awarded with a view to improve canal bunds, drainage canal, widening of canals and improvement to gates and other structures.  Following figure show the status of works packages implemented under the original project. Overall status of works packages implementation under original project by ID is shown bellow.
5.2.2 Physical improvement of Hydraulic infrastructures of MASL:
MASL has identified 60 works packages worth of Rs 1308 mn at the initial stage of the project for increase resilience of hydraulic infrastructure to reduce future flood and droughts risks. However, with the occurrence of 2014 flood such requirement is further widened to include another 18 packages worth of Rs 715.8 mn to be implemented under Additional Financing. Therefore, total packages identified under MASL has increased to 78 packages with estimated value of Rs 2,062 mn. Among them 47 packages are identified under NCB category, 30 packages as CP and only one package is awarded as a direct contract to Ceylon Electricity Board. Up to now, 27 NCB packages are awarded with contract value of Rs 1,253 mn and paid Rs 893 mn as part payment for ongoing NCB contracts.
With regard to the Community Participation (CP) packages, at present all 30 packages are awarded for Farmer Organizations with a value of Rs 32.49 mn and all packages are completed by FO and paid Rs 31 mn for bills submitted by FO. One direct contract packages is awarded to CEB with a value of Rs 2.6 mn and at
present contract is completed and paid entire amount. All together 58 packages awarded with contract value of Rs 1,288 mn and already paid Rs 927 mn. Contract awarded and implanted under original project by MASL is shown bellow.
5.2.3  Ensuring Transport Continuity – Road and Bridge Improvement
In order to avoid interruption to transport continuity due to landslides and floods, RDA has identified 17 rehabilitation packages including 10 packages for improvement of bridges and 7 packages for stabilization of slopes in road side to prevent landslides. Total estimated value of 17 packages is Rs 3,467.4 mn. Up to now 6 NCB packages are awarded amounting to Rs 862.6 mn for improving bridges in Nadimale – Boralasgamuwa road, Polonaruwa – Thambala-Sangawila Somawathi road, Trinco-Baticaloa road, Bogahawewa-Pulmudai Road, Makandura-Badalgama Road, Kataragama-Sella kataragama road and Gangodawila boralasgamuawa Road. Physical progress of the Nadimala bridge construction is 62% against the target of 100% and financial progress is 47% against 100% target.  It indicates physical and financial progress are well behind the target as shipment of utility poles such as SLT cables and NWS&DB pipe lines were taken unreasonable time period.
With regard to the construction of bridge in Polonanruwa-Somawathi road, physical progress is 100% whereas target progress is 100% and actual financial progress 89% against the target of 100%. It implies that contractor has shown very good progress in construction work which is well ahead the target but submission of bills for reimbursement of cost incurred for the contractor is seems to be delayed. Construction of Trincomalie-Baticallow (NCB-302) bridge was awarded to SD&CC and their progress is not satisfactory as physical progress is 14% and financial progress is 20%. Construction of bridge for 3/1 causeway on Bogahawatta-pulmudai road is completed 66% and financial progress is 42%.
In addition, 3 NCB packages awarded with a value of Rs. 648.6 mn to rectify unstable slope in 16 sections of Kandy – Mahiyangana road. Actual physical progress is around 85%. One packages is completed 100% and balance two packages are completed 80%.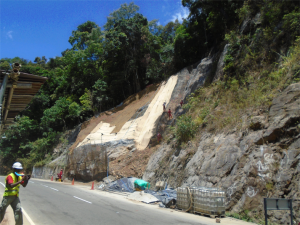 5.2.4 School Safety – Landslide Mitigation
NBRO has identified 18 school premises as most vulnerable school sites to be protected from landslides in Kandy district. Initially rehabilitation works were packaged in to 7 NCB packages in order to attract the bigger contractors. Later on it is found that only one contractor is available in Sri Lanka to undertake such a large contract and small and medium scale contractors could not bid for such big packages due to their scale of operation. It is also experienced that two packages awarded to Soil tech are not performing properly. Therefore, decision is taken at PMU to split such large packages into small packages that could be undertaken by medium level contractors. This effort will help the medium scale contractors to gain experience in the slope stabilization works and by the time of project completion there will be few more contractors who will be qualified to undertake such a big contract which is part of the responsibility of the project to create more competitive environment for the slope stabilization contracts in the country.
Up to now two packages awarded to Soil Tech PvT Ltd.  One package is awarded for Dharmaraja collage with a contract value of Rs 105.8 mn and another package is awarded to stabilize slopes in Mahamaya Girls School, Hill wood collage and Gotahmi Girls's school with a contract value of Rs 130.51 mn. Physical progress of Dharmaraja slope stabilization is 95% and financial progress is (Rs 57.59 mn) 54%. Physical progress of slope stabilization in Mahamaya, Hillwood, Gothami collages is 70% and financial progress is 46%. Project has paid Rs 64.9 mn as part payment for the contractor. Another contract is awarded new contract to stabilize slope in Galkanda kanista Vidyala is awarded and contractor commenced work. Up to now 10% physical work and 13% financial progress is achieved which is a remarkable achievement within very short period.
Rest of packages are at different procurement stages such as 100% investigation and design are completed for Krukuthala Maha Vidyalaya, Molagoda Sri Piyadassi Vidyalaya, Gonigoda Ananda Vidyalaya and Vidyartha Vidyalaya. Design and estimate preparation are in progress for Gampola St Joshop Girls collage, Gampola Buddhist Collage and Jinaraja collage. Investigations are in progress in Bothota Vidyalaya and Halloluva Navoda Maha Vidyalaya and designing and estimate preparation in progress for Wattegedara Central Collage, Kasawatte Muslim school and Sirimalwatte Navodya school.