Hydrogeological study for the assessment of groundwater contamination at Chunnakam, Jaffna
The project objective of this study is  to identify the source of pollution and assessment of present disperse levels of contaminant in groundwater which facilitates to forecast the possibilities of future spreading and vulnerability levels. A comprehensive hydrogeological study was started in 2015 to assess the aquifer properties and to identify the hydrogeological flow mechanism within this Chunnakam aquifer.
Following activities were completed during the period from January to July 2016 under this project
No.
Activity
Progress
01
Carry out groundwater investigations

1d Resistivity

2D resistivity

35

10

02
Construction of test bore holes
32
04
Levelling of monitoring well points
44
05
Water sampling & chemical  analysis
81
06
Pumping tests
3
07
Data analysis, interpretation and reporting
In progress
Groundwater development programme to enhance Gonaganara rural water supply project in Moneragala District
The main objective of this project is to provide safe and clean drinking water for people Living in Gonaganara area in Moneragala district and following activities have been Completed during the period from January, 2016 to June 2016.
Item

 

Description
Progress
01
Design and construction of water purification and filtering system at the existing intakes Gonagan ara stream
100%
02
Conducting 24 hrs pumping test and water quality testing of deep tube well at Gonagan ara that selected for new water source.
100%
03
Establish 7m height water tower and 5000  liter capacity water tank
100%
04
Construction of Pump house
100%
05
Installation of submersible pump, filter and other accessories.
55%
Well cleaning programme in Kelani river flood affected areas from Awissawella to Colombo
The well cleaning programme from Hanwella to Kolonnawa was commenced from 25th May to 16th June 2016 due to flood effect of Kelani Ganga as advised by the Hon. Minister of Irrigation and Water Resources Management and the Ministry Secretary. The summery of well cleaning programme is given as follows;
D.S. Division
Villages
Dug well Cleaning
Tube Well Cleaning
House Cleaning
Culvert Cleaning
Hanwella
PahalaHanwella, Pahathgama, IhalaHanwella, Kosgama, Wanahagoda, Kananpalla, Wewalwaththa, Niripola, Iriyagolla, Madagoda,SeewaliWattaBolawaththa
446
17
01
00
Kaduwela
Ranala,Nawagamuwa- north & south, Waliwita, Ihalabomeriya
120
02
04
02
Kolonnawa
Himbutuyana,  Gothatuwa, Malgama, Mulleriyawa, Angoda, Kalanimulla, Kotikawatta, Kotuwila, Wallampitiya
273
01
02
04
 

Total

839
20
07
06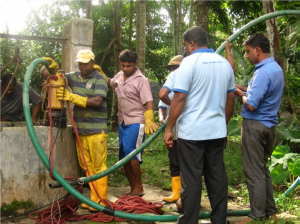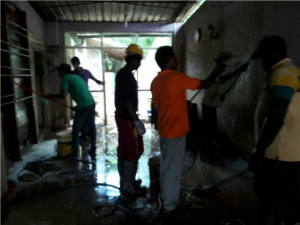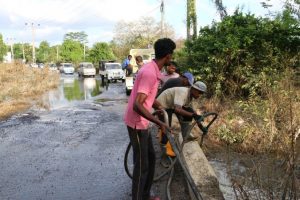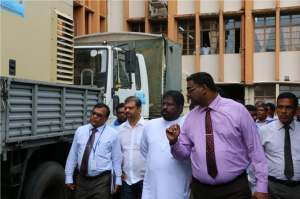 Well cleaning programme of effected areas under Salawa incidence
Due to Blasting of Salawa Army camp, the well cleaning programmme was started on 09.06.2016 as guidance of Hon. Minister of Irrigation and Water Resources Management and the advice of the Secretary, Ministry of Irrigation and Water Resources Management.Addition to thatWater samples were collected &analyzed by using Mobile Laboratory as three parameters of pH, Electrical Conductivity and Sulfate (SO4).
The wells were selected with the help of Grama Niladari, PHI offices and Army officers in the affected area. About 950 dug wells were cleaned and 350 water samples were collected & analyzed by considering the impact areas.