Construction of Kochchipothana Feeder Canal
Kochchipathana tank (265740E, 133225N) belongs to both Tissamaharama and Kataragama divisional secretarial areas. Kochchipathana tank is a working tank and at present cultivating only about 200 acs in Maha season due to the insufficiency of water. In Yala. Even though enough fertile lands available at the tail end of the scheme, there is no possibility to extend the irrigable extent due to water shortage from own catchment inflow.
By considering the existing Kochchipathana tank capacity and possible diverting additional inflow from adjoining catchment or tank, the irrigable area can be increased up to 300 Acs. The demand of water requirement in Kochchipathana tank can be met by constructing a feeder canal from Detagamuwa tank so that it would be possible to cultivate the full extent under Kochchipathana tank in both Yala and Maha Season.
In addition during the festival season water requirements of pilgrims will be supplied by this tank.
Position as at end of July 2016
Feeder canal excavation from 0+00km – 6+00km was 90%
Allocation for 2016 is Rs. 95 million (Revote 45 & new works 50m) and expenditure to end of July was Rs. 28.508 million
Construction of Muthukeliyawa Feeder Canal Stage II
By this feeder canal water supply to 7 minor tanks. All those tanks belong to Agrarian / provincial council. But the total irrigable area is 600 Acs. 
Position as at end of July 2016
Feeder canal excavation 100% completed
Structures 70% completed
Allocation for the year 2016 is Rs. 50 million re-vote. Expenditure to the end of July 2016 was Rs. 11.24 million
Yakamuna Anicut
Yakkamuna Anicut is located in Puttalam district. This is a restoration works and started under Economic Development ministry. As there is no allocation year 2014, the balance works are in progress under Ministry allocation.
Position as at end of July 2016
Anicut             –           Almost completed
Anicut gates    –           design is in progress
Allocation for the year 2016 is Rs.  55.00 million and expenditure to end of  July 2016 was Rs. 23.726 million.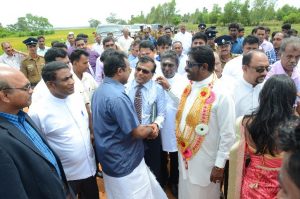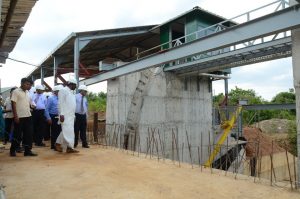 Inauguration of North and East Irrigation Projects by Hon. Minister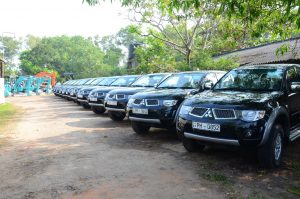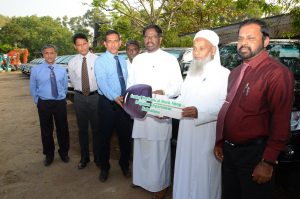 Hon Minister distributing vehicles and machineries to  Irrigation Range Offices to expedite development