The Irrigation Department with over a century of experience as a pioneer organization responsible for most of the development works in the irrigation sector, looks optimistically towards the development envisage in the water sector at the dawn of the new millennium.
Vision
"To optimized the returns of the water resources so as to ensure sustainable economic and social development while safeguarding the environment of the country, following the words of the King Parakramabahu the Great of "Not allowing a single drop of water falling from this sky to sea without serving the ecosystem and mankind"."
Mission                                                                                     
"To harness, develop, conserve, regulate, allocate and manage water resources in the country to secure &enhance the returns it produces, directly in the sphere of agriculture and indirectly in other spheres such as environment domestic, industry and power in collaboration with other organizations."
Objectives
The main objectives of the Irrigation Department are as follows;
Development of land and water resources for irrigated agriculture, hydro power, flood control, domestic usage, industrial usage and aquaculture development, giving priority to the environmental factors
Provision of Lift irrigation, irrigation drainage and salinity exclusion facilities for cultivable lands in irrigation and drainage Projects. Provision of salinity exclusion schemes
Provision of drinking water, flood protection and drainage facilities to lands affected by floods
Alleviation of poverty of the rural farming community by increasing their farm income and raising their standard of living
Management of Water economically for sustainable agriculture and other uses
Productivity enhancement of land and water in major/medium/inter-provincial minor irrigation schemes
Integrated water resources management and participatory management in major /medium. Interprovincial minor irrigation systems
Integrated water resources management and participatory management in river basins assigned to ID
    Functions of the Irrigation Department
The functions of the Irrigation Department arising from the objectives are as follows;
Preparation of Master Plan for development of the different river basins for the optimum utilization of land and water resources giving priority to the environmental factors
Project formulation and detail designs of irrigation, hydro-power, flood control and reclamation Projects
Construction of irrigation and settlement projects for the conservation, diversion and distribution of water under gravity and lift Irrigation to new and existing land for cultivation by farmers for an enhanced food crop production and to upgrade their living conditions
Construction of drainage, flood protection and salt water exclusion projects for the protection of land to enable the cultivation of such lands with rainfall for food crop production with minimized risk
Providing drainage and flood protection facilities to minimize or mitigate the damages caused by floods
Operation, maintenance, improvements, rehabilitation and water management for medium and major irrigation schemes. Drainage and flood protection scheme and salt water exclusion schemes for optimum productivity enlisting the participation of beneficiaries. Catering of water for Inter sectorial use, domestic, industrial use and environmental requirements. Construction and maintenance of conservation reservoirs
Maintaining and upgrading the water infrastructure including dams for sustainable water supply to agriculture and domestic purposes
 Research in Hydraulics, Hydrology, Soil Mechanics, Engineering Geology, Geographic Information System (GIS), Engineering Materials and Land Use as applied to Water Resources Development Projects
Human resources development for optimum utilization of human resources
Operation and maintenance of financial management system, accounting, reporting, auditing systems of irrigation department in accordance with the financial regulation of the government of Sri Lanka
Providing consultancy Services to government department, statutory boards/corporation, public and private institutions and individuals; in the fields of Water Resources Development; Foundation Engineering; Quality Control of Earthwork and Concrete; Hydraulic Model Testing and Land Use Planning
Cultivation Performance of Irrigation Department
Summary of the Performance of Irrigation Department
District – wise performance during Maha 2015/2016 and program Yala 2016 are given in the Table below
Major Irrigation Schemes – Cultivation Performance Maha 2015/16
Major Irrigation Schemes

Major Irrigation Schemes – Cultivation Performance Yala 2016
Major Irrigation Schemes2

Medium Irrigation Schemes – Cultivation Program Maha 2015/16
Medium Irrigation Schemes

Medium Irrigation Schemes – Cultivation Program Yala 2016
Medium Irrigation Schemes2

Maha 2015/16
2nd Inter monsoon is partly activated and available water percentage of 73 major reservoirs was 50 % at beginning of the season for Maha 2015/16. NE monsoon is bringing considerable inflow to 73 major reservoirs during seasons hence reservoir's capacity was increase up to 94% on 07th of January 2016.cultivation was completed under Major irrigation schemes were 86% and Medium irrigation schemes were 81%during Maha 2015/16.
Yala 2016
1st Inter monsoon is partly activated but available water percentage of 73 major reservoirs was 84 % at begging of April 2016. But some reservoirs under Mahaweli system were in lower capacity specially GDR (Kotmale) was 31.3% of capacity. Then take decisions to reduce the cultivation under effected from Mahaweli system. At the mid of May 2016 cyclonic weather condition fill the all tanks in central of the country and flood occur in Kalani river.
Irrigation & Productivity Enhancement
The branch was established under the restructuring of the Department in 2013.. The objective of the branch is to establish an integrated management system to increase socio – economic standard of farming community through participatory management approach by optimum use of one unit of water and one unit of land in Irrigated agriculture.
Irrigation Department maintains 756000 Acs of Irrigated Land which is 75% of total Irrigated Land in Major Irrigation and 340 Irrigation Schemes in Sri Lanka. Thus, 75% of the rice production is fulfilled by Irrigation land under Irrigation Department. Since, we achieved the self – sufficiency in paddy we have focused on other field crops which are imported from other countries.
Even though Irrigation Department planning to implement more and more Water Resources Development in the country. It is a big challenge to increase our Irrigated Land extent further in a large scale. We have to think of forest coverage, settlement and other industrial needs of the country and at present Irrigation Department more concentrate on improvement to land productivity in available lands.
Meantime, the government declared National food security program and 'Wasa visa nethi ratak' program as National programs. With the new thinking as explained above Irrigation Department launched following activities during 1st half of the year 2016 and expected to concentrate further for dynamic change in Irrigated Agriculture during the year 2017.
Activities performed during 1st half of the year
 1.  Training of Project Managers and Field Officers
Training of field officers is very much important for an implementing agency Like Irrigation Department, especially when launching new program training is much more important.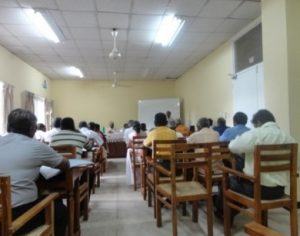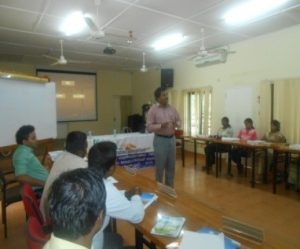 Training of Project Managers under Waphaula Program Kothmale International
Training Institute February – 2016.
2.    National Conference of Irrigation Farmers in BMICH Chaired by H. E. the President.
Irrigation Department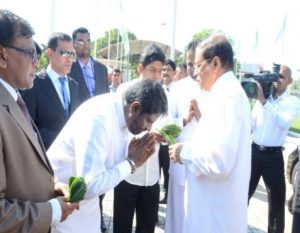 organized a National Conference of Irrigation Farmers (Jathika Wari Govi Samuluwa) in BMICH on 6th April 2016 under the patronage of H.E. President. There were many problems Such as construction issues, maintenance problems, water shortage, and fertilizer subsidiary new system introduced by the government etc, raised by farmers in Irrigation Schemes in several occasions. Hon. Minister of Irrigation & Water Resources Management was very sensitive on the issues raised by farmers and summoned a conference to discuss and solve their problems.
The other outcome of the conference was, to aware the farmers about kidney diseases and special awareness was made to the farmers by Dr. Channa Jayasumana Senior Lecture Raja Rata University.
3.  National Food Security program and Wasa visa Nathi Ratak Programme
Ministry of Agriculture has organized the above program and Irrigation Department contributed by providing necessary assistant in Irrigation Schemes in field level. And also Irrigation Department contributed to National Exhibition organized by Agriculture Department in BMICH from 6th to 8th March 2016.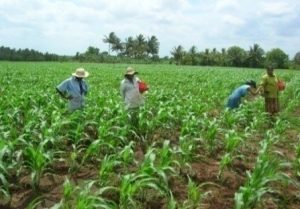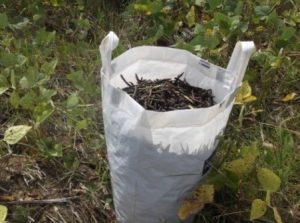 OFC Cultivation in Major Irrigation Schem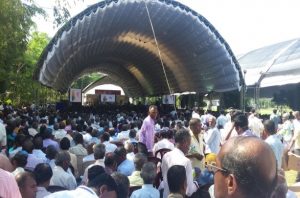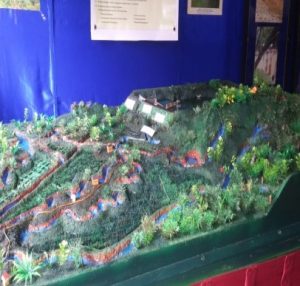 Exhibition on Wasa Visa Nethi Ratak BMICH 2016 march
4.   Traditional paddy Cultivation program and organic fertilizer program
This program implemented in several districts such as Anuradhapura, Polonnaruwa, Monaragala, Badulla Galle, Matara, Hambantota, and Kandy in small scale as pilot project and found successful achievements. But, it is observed that marketing problems is a negative impact for further improvement of Traditional Paddy.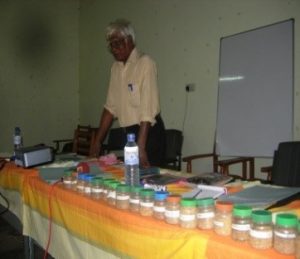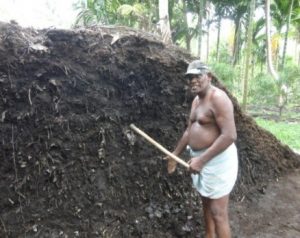 5.    Management of Invasive Species (Aquatic Plants) in Irrigation Schemes
Invasive Aliens species (aquatic Plants) now become a major issue in Irrigation schemes, invasive aquatic plants such as Japan Jabara (Eichhornia Crassipes), Salvinia (Molesta), Diya Hawariya (Velisneria Spiralis), Hydrilla (Hydrilla Verticillara) etc spread all over the Irrigation System and found considerable economic damage to the irrigation system.
Irrigation Department with the assistant from Bio – Diversity Secretariat, Ministry of Mahaweli Development and Environment has organized the program to control the Invasive Plants in Irrigation System by mechanical and Biological control methods. General awareness of Irrigation Staff and Training of Trainers (TOT) program on IAS were conducted in Kothmale International Training Institute during, July 2016.
Present Status of the Projects Implemented by Irrigation Department (GOSL funded projects)
The total financial allocation for capital expenditure for the year 2016 is Rs. 13,571.43 million and Rs.  4, 432.34 million was spent up to the end of July. Detailed Financial progress of individual items is given below with a brief description of the items and present financial position of work.